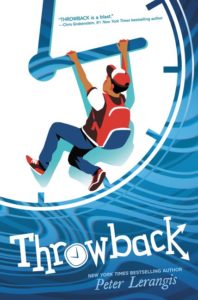 Written by Peter Lerangis
Corey Fletcher has always been told that he has a big imagination. He has lived his whole life in New York City and has a deep connection with his grandfather. One day he discovers that he can travel back in time, just like his grandfather. As a time traveler Corey can visit the past, but he has the special ability to change history, whereas others can only experience it. Corey's grandfather warns him that he can never visit the past because he cannot control the consequences. Corey understands this but is determined to visit September 9, 2011 so he can prevent his grandmother's death. When his rescue goes wrong, Corey is unexpectedly sent to the year 1917. Due to circumstances he is stuck in that time zone unless he befriends a Wyoming cowboy.
I thoroughly enjoyed this time travel book. Most books containing this concept are predictable and everyone can alter time. I appreciated the rules the author created about time travel and made Corey a rare exception. It was also nice that Corey did not abuse his power to alter history and showed genuine concern when he accidentally changed events in history. This is the first book in a trilogy, but it is also a wonderful stand alone book.
Reviewed by LeeAnne Grover, Media Clerk, Hillside Elementary
Rating: ★★★★★ (5 stars)
Interest Level: Grades 4-9
Author Website: http://peterlerangis.com/
Throwback
Written by Peter Lerangis
Harper, an imprint of HarperCollins Publishers
340 pages
Release Date: October 1, 2019
ISBN: 0062406388
A review copy was provided by the publisher.
Tags:
2019 Children's Fiction
,
Adventure Fiction
,
Grandfathers Fiction
,
Grandparents Fiction
,
LeeAnne Grover
,
New York City Fiction
,
Peter Lerangis
,
Science Fiction
,
Time Fiction
,
Time Travel Fiction