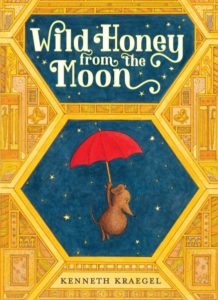 Written and Illustrated by Kenneth Kraegel
Mother Shrew's only son is deathly sick and the only cure is a teaspoon of wild honey from the moon. Mother Shrew packs her red umbrella and begins her quest to obtain honey for her son. Nothing will stop her. She will trick an owl, calm a nightmare, befriend a butterfly, and convince the queen bee to part with some of her honey. The illustrations are dreamlike and the story is endearing. It is a book about a mother's love and the risks a mother takes for her children. You will feel like you have emerged from a dream when you finish this book.
Reviewed by LeeAnne Grover, Media Clerk, Hillside Elementary
Rating: ★★★★★ (5 stars)
Interest Level: 2nd-4th Grade
Author Website: http://www.kennethkraegel.com/
Wild Honey from the Moon
Written and Illustrated by Kenneth Kraegel
Candlewick Press
64 pages
Release Date: November 5, 2019
ISBN: 9780763681692
A review copy was provided by the publisher.
Tags:
2019 Easy Chapter Books
,
Adventure Fiction
,
Animals Fiction
,
Fantasy Fiction
,
Illness Fiction
,
Kenneth Kraegel
,
LeeAnne Grover
,
Love Fiction
,
Moon Fiction
,
Quests Fiction
,
Shrews Fiction