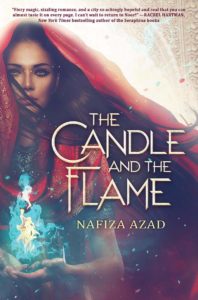 Written by Nafiza Azad
Fatima is one of only a few survivors. As a child her family was murdered by the Shayateen djinn, and she was saved by an Ifrit who died saving her life. Unbeknownst to Fatima, this resulted in her having a little of the woman's djinn flame embedded in her. When a trusted ally who happens to be the Name Giver of the Ifrits dies, Fatima's flame is roused. Her simple lifestyle quickly becomes complicated with the royal courts, magic, a possible love interest, mystery, Djinn, and a battle between races. A beautifully told middle-eastern fantasy with a strong female protagonist that will absorb readers in an intriguing world. The glossary of Hindu, Urdu, and Arabic words in the back of the book will help readers to navigate the names and phrases essential for the story. Fans of Renee Ahdieh and Alwyn Hamilton will love this book.
Reviewed by Jessica Moody, Library Media Educational Technology Specialist, Olympus Jr. High
Rating: ★★★★★ (5 stars)
Interest Level: Grades 7-12
The Candle and the Flame
Written by Nafiza Azad
Scholastic Press
391 pages
Release Date: May 14, 2019
ISBN: 9781338306040
A review copy was provided by the publisher.
Tags:
2019 YA Fiction
,
Action Fiction
,
Adventure Fiction
,
Clean Reads
,
Djinn Fiction
,
Fantasy Fiction
,
Genies Fiction
,
Good and Evil Fiction
,
Jessica Moody
,
Kings and Rulers Fiction
,
Magic Fiction
,
Nafiza Azad
,
Romance Fiction
,
Silk Road Fiction
,
South Asia Fiction