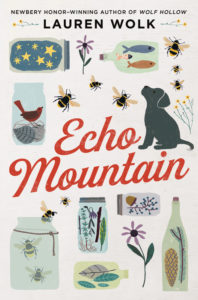 Written by Lauren Wolk
After the financial crash, Ellie and her family are forced to live in the woods. Ellie and her family conquered Echo Mountain, or so they thought. An accident would put them off track and no one was the same. Things went downhill fast. A hag and her family were also struggling. Old friends were found, but with that moment of happiness would there be any more?
I think that this was a very fun, adventurous book. It kept me on my toes and I could not put it down. Even though there were hardships, the book taught how much persistence can pay off. I felt for Ellie and her family, and the hag on the mountain and her grandson. I would recommend this book to whoever is willing to listen. It is such a great book that is worth sharing.
Reviewed by Brinley Shields, Student, Fox Hills Elementary
Rating: ★★★★★ (5 stars)
Interest Level: Grades 4-6
Author Website: http://www.laurenwolk.com/
Echo Mountain
Written by Lauren Wolk
Dutton Children's Books
356 pages
Release Date: April 21, 2020
ISBN: 9780525555568
A review copy was provided by the publisher.
Tags:
2020 Children's Fiction
,
Adventure Fiction
,
Brinley Shields
,
Country Life Fiction
,
Family Life Fiction
,
Friendship Fiction
,
Great Depression Fiction
,
Historical Fiction
,
Lauren Wolk
,
Maine Fiction
,
Student Reviews