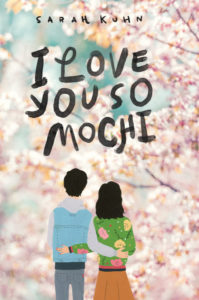 Written by Sarah Kuhn
What is mochi? This is why I love reading! A new world of Japanese culture, color, words, and stories unfold in this book, including what mochi is! (And mochi is a Japanese dessert that comes in many different flavors.)
This story is about Kimi. She has run into a problem trying to produce the inspired artwork her mother expects so she can succeed in her first year at the Liu Academy. What Kimi really loves are the bold, expressive patterns and creations she designs for her friends to wear. When Kimi drops her art class and upsets her mother, she decides to get away and takes her spring break across the ocean with her mother's parents in their hometown of Kyoto, Japan. Kimi is in for quite the "treat" when she arrives and falls for a guy, Akira, who she meets after he falls over in his mochi costume he is using to advertise his uncle's mochi shop. From there, Kimi and Akira set off together to help Kimi truly understand what she loves. This is a funny, sweet, and Japanese-infused love story from a third-generation Japanese American author. Written for older teenagers and young adults, I recommend you give this book a try!
Reviewed by Thomas Boynton, Teacher, Matheson Junior High
Rating: ★★★★✩ (4 stars)
Interest Level: Grades 8-12
Author Website: http://www.heroinecomplex.com/
I Love You So Mochi
Written by Sarah Kuhn
Scholastic Press
308 pages
Release Date: May 28, 2019
ISBN: 9781338302882
A review copy was provided by the publisher.
Tags:
2019 YA Fiction
,
Art Fiction
,
Contemporary Fiction
,
Friendship Fiction
,
Grandparents Fiction
,
Humorous Fiction
,
Japan Fiction
,
Kyoto Fiction
,
Love Fiction
,
Mothers and Daughters Fiction
,
Romance Fiction
,
Sarah Kuhn
,
Teacher Reviews
,
Thomas Boynton
,
Travel Fiction