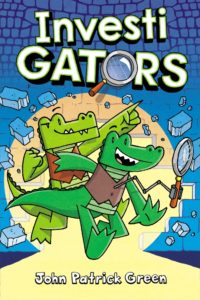 Written and Illustrated by John Patrick Green
InvestiGators, a graphic novel, is a mystery adventure involving two alligator investi "gators". The gators go undercover at a bakery to find out why chef Mustachio has gone missing. The storyline is a bit bizarre, but there are humorous plot twists and lots of silly puns and amusing moments. The cartoonish characters are a bit doltish, but they solve the mystery and save the day. Kids will enjoy reading this book.
Reviewed by Heidi Reed, Media Clerk, Morningside Elementary
Rating: ★★★½✩ (3.5 stars)
Interest Level: Grades 2-6
Book Series Website: https://investigatorsbooks.com/
InvestiGators
Written and Illustrated by John Patrick Green
First Second
200 pages
Release Date: February 2, 2020
ISBN: 9781250219954
A review copy was provided by the publisher.
Tags:
2020 Children's Graphic Novels
,
Alligators Fiction
,
Animals Graphic Novels
,
Detectives Fiction
,
Heidi Reed
,
Humorous Graphic Novels
,
John Patrick Green
,
Mystery Graphic Novels