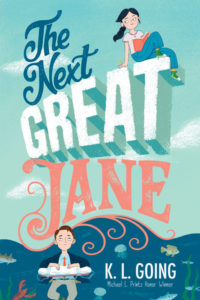 Written by K.L. Going
In a small town in Maine, a twelve-year-old aspiring author named Jane Brannen is trying to live up to her namesake. She has spent her life loving her plain, seaweed-scented hometown, her gentle, oceanographer father, and reading and writing stories about princesses and rich estates. But after a hurricane strikes Whickett Harbor, Jane's life is turned upside down. After meeting the snobbish son of her favorite romance writer and getting lost in the hurricane's storm with him, she is then confronted with the worst of fates: her mother and her new fiance.
I am absolutely head over heels in love with this book. It was an absolute pleasure to step into Jane's shoes and enjoy the simple life she enjoys and the serious talent she has for writing. And, like her, I felt very upset when her mother tries to take her back, away from her happy life, for sake of her new fiance. But Jane uses her intellect and spunky attitude to change this terrible situation before it's too late, even if it means tricking her father into dating the great J.E. Fairfax. And after spending time with the author's stuck-up son, she finds her first impression of him was the wrong one. Filled with charming humor, wonderful characters, and happy endings, this is a beautiful story about budding love and friendship, showing understanding for your family, and giving people a second chance.
Reviewed by Natalie Dean, Media Clerk, Woodrow Wilson Elementary
Rating: ★★★★★ (5 stars)
Interest Level: Grades 5-9
Author Website: http://klgoing.com/
The Next Great Jane
Written by K.L. Going
Dial Books for Young Readers
231 pages
Release Date: March 19, 2020
ISBN: 9780803734753
A review copy was provided by the publisher.
Tags:
2020 Children's Fiction
,
Authorship Fiction
,
Child Custody Fiction
,
Divorce Fiction
,
Fathers
,
Friendship Fiction
,
Hello Kitty
,
Jane Austen
,
K.L. Going
,
Maine Fiction
,
Mothers and Daughters Fiction
,
Natalie Dean
,
Ocean Fiction
,
Oceanography Fiction
,
Pride and Prejudice
,
Realistic Fiction
,
Small Town Fiction
,
Writing Fiction