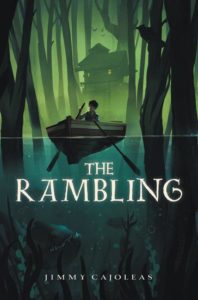 Written by Jimmy Cajoleas
Buddy Pennington has always been plagued with bad luck. No matter how hard he tries, he doesn't seem to be able to do anything right. On his eleventh birthday, he breaks his mom's heart for the last time and sets out on an adventure to find his Pop. But he'll find much more than his Pop. On this wild adventure and coming-of-age story, Buddy will find friendship, truth behind legends, magic, and what love really is.
The Rambling is a suspenseful, adventure young adult fiction
novel. There are some scary parts in the novel (spider people, knife fights, and scary monsters.) It was a fun read and I couldn't put it down. The end was not how I expected it to be, which to me, is a sign of great writing. It wasn't the happily ever after that Buddy wanted, but a realistic ending and new beginning.
Reviewed by Marla Nielsen, Teacher, West Lake STEM Jr High
Rating: ★★★★✩ (4 stars)
Interest Level: Grade 6-9
Author Website: https://www.jimmycajoleas.com/
The Rambling
Written by Jimmy Cajoleas
Harper, an imprint of HarperCollinsPublishers
291 pages
Release Date: March 26, 2019
ISBN: 9780062498786
A review copy was provided by the publisher.
Tags:
2019 YA Fiction
,
Adventure Fiction
,
Coming of Age Fiction
,
Fantasy Fiction
,
Fathers and Sons Fiction
,
Horror Fiction
,
Jimmy Cajoleas
,
Magic Fiction
,
Suspense Fiction