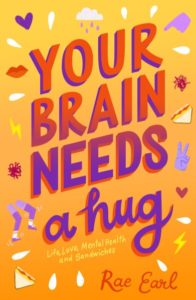 Life, Love, Mental Health, and Sandwiches
Written and Illustrated by Rae Earl
Rae Earl is an author and broadcaster. As a teen and a young adult, she had to deal with some mental health issues that she realizes that many teens need help to deal with. In this book she offers practical advice, a plea to get help when needed, and understanding guidance for teens from someone who has been there. Topics include Anxiety, Phobias, Eating Disorders, Psychosis, Self-Harm, and Depression. The reader also gets advice on how to acquire self-esteem, social media, sex and relationships, friendships, parents, drugs and alcohol, and supporting others with mental illness. The writing is easy to read and interspersed with fun illustrations.
Reviewed by Jessica Moody, LMETS, Olympus Jr High
Rating: ★★★★✩ (4 stars)
Interest Level: Grades 8-12
Your Brain Needs A Hug
Written and Illustrated by Rae Earl
Imprint
282 pages
Release Date: August 13, 2019
ISBN: 9781250307859
A review copy was provided by the publisher.
Tags:
2019 YA Nonfiction
,
Health
,
Jessica Moody
,
mental health
,
psychology
,
Rae Earl
,
Self-Help