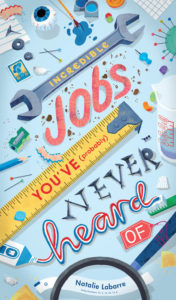 Written and Illustrated by Natalie Labarre
This is a very entertaining read if you have ever wondered what you want to be or do when you grow up. There are always the classics like a doctor, chef, teacher, and lawyer. But this book introduces you to the many different types of jobs there are that one would never think of, from cow massagers, professional line sitters, body farmers, crack fillers (on Mt. Rushmore!), professional sleepers, to the Warden of the Swans in England. The descriptive paragraphs are short and diverting. The illustrations are quirky and colorful.
I am already planning a day next year that I can talk about "What do you want to be when you grow up?" and using this book as a read aloud. My only problem would be picking out which page and job to share with the students, as I think they will be intrigued by them all. The only downfall that I find with this interesting book is the size. It is an oversized book and therefore will not fit on a regular book shelf.
Reviewed by Heather B Arauzo, Media Clerk, Granger Elementary
Review shared in March 2021
Rating: ★★★★½ (4.5 stars)
Interest Level: Grades 3-6
Look at a sample of this book: https://issuu.com/nosycrow/docs/incrediblejobs_ins/10
Incredible Jobs You've (probably) Never Heard Of
Written and Illustrated by Natalie Labarre
Candlewick Press
48 pages
Release Date: April 14, 2020
ISBN: 9781536212198
A review copy was provided by the publisher.
Tags:
2020 Children's Nonfiction
,
Careers
,
Careers Picture Books
,
Curiosities and Wonders
,
Heather B. Arauzo
,
jobs
,
Natalie Labarre
,
Occupations
,
Occupations Picture Books
,
Professions
,
Professions Picture Books