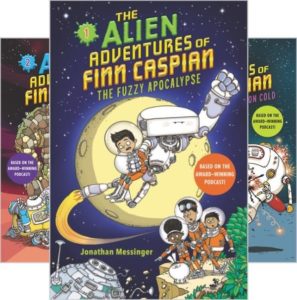 The Fuzzy Apocalypse (#1)
The Accidental Volcano (#2)
Written by Jonathan Messinger, Illustrated by Aleksei Bitskoff
These books are based on an award-winning podcast which makes them fun to read aloud. However, the illustrations add life to the characters that might not have been conjured up in the imaginations of the target audience. I would best describe these stories as Star Trek for the young ones. The kids on the space station have their own adventures as they explore alien planets and encounter alien beings. Fast paced and humorous, these books would be appreciated most by ages 4-8.
Reviewed by Marni Allred, Media Clerk, Robert Frost Elementary
Review shared in March 2021
Rating: ★★★★✩ (4 stars)
Interest Level: Grades 2-4
Finn Caspian Website: http://www.finncaspian.com/
The Alien Adventures of Finn Caspian
The Fuzzy Apocalypse (#1)
The Accidental Volcano (#2)
Written by Jonathan Messinger, Illustrated by Aleksei Bitskoff
Harper, an imprint of HarperCollinsPublishers
Release Date: September 22, 2020
ISBNs: 9780062932150 (Book 1) / 9780062932181 (Book 2)
A review copy was provided by the publisher.
Tags:
2020 Chapter Books
,
Adventure Fiction
,
Aleksei Bitskoff
,
Extraterrestrial Beings Fiction
,
Friendship Fiction
,
Humorous Fiction
,
Jonathan Messinger
,
Marni Allred
,
Podcasts
,
Podcasts for Kids
,
Robots Fiction
,
Science Fiction
,
Space Adventure Fiction
,
Space Travel Fiction