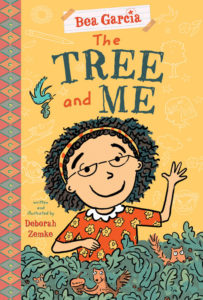 Bea Garcia, #4
Written and Illustrated by Deborah Zemke
Outside of Emily Dickinson Elementary School stands a beautiful, tall, white oak tree named Emily. After a troublemaker climbs the beloved Emily, the solution is to cut her down. Bea and her classmates know that is not the right solution and must come together to problem solve and save Emily. As the children work to save Emily they explore, research facts, and use their creative talents to change the minds of those who want to cut her down.
The fun illustrations retell the story and help it come to life.
Reviewed by Dana Valencia, Media Clerk, Oakridge Elementary
Review shared in August 2019
Rating: ★★★★½ (4.5 stars)
Interest Level: Grades 1-4
Author/Illustrator Website: https://www.deborahzemke.com/deborahzemke/
Bea Garcia, #4
The Tree and Me
Written by Deborah Zemke, Illustrated by Deborah Zemke
Dial Books for Young Readers
154 pages
Release Date: May 14, 2019
ISBN: 9780735229419
A review copy was provided by the publisher.
Tags:
2019 Easy Chapter Books
,
Bea Garcia Series
,
Dana Valencia
,
Deborah Zemke
,
Drawing Fiction
,
Elementary Schools Fiction
,
Humorous Fiction
,
Latinx Fiction
,
Realistic Fiction
,
Teamwork Fiction
,
Trees Fiction