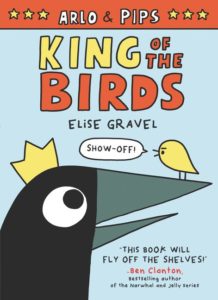 Written and Illustrated by Elise Gravel
King of the Birds was a fun and easy graphic novel read! Crow Arlo and small bird Pips become fast friends and go on a few adventures to find shiny things for Arlo's collection.
One thing I loved about this graphic novel are the facts about crows throughout the book. It would be hard to read this book without learning something new about crows; I know I did.
Reviewed by Jennifer Young, Media Clerk, Woodstock Elementary
Review shared in April 2021
Rating: ★★★★★ (5 stars)
Interest Level: 1st-5th Grade
Author/Illustrator Website: http://elisegravel.com/en/
King of the Birds (Arlo & Pips, #1)
Written and Illustrated by Elise Gravel
HarperAlley, an imprint of HarperCollins Publishers
64 pages
Release Date: October 6, 2020
ISBN: 9780062982223
A review copy was provided by the publisher.
Tags:
2020 Children's Graphic Novels
,
Adventure Graphic Novels
,
Animals Graphic Novels
,
Arlo & Pips
,
Birds Fiction
,
Crows Fiction
,
Elise Gravel
,
Friendship Graphic Novels
,
Humorous Graphic Novels
,
Jennifer Young