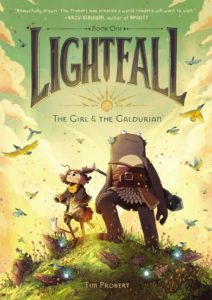 Written and Illustrated by Tim Probert
Kids who like fiction would like this book. I like that the frog was helping the little girl find her grandpa and she was helping him as well. They were helping each other. I liked that! I like the art because it was kind of weird and funny the things that happened to them.
T
his book shows how to be a good friend. For example, when the girl was mad with the frog, she was walking and stepped on something that made her turn into a stone. He came back to help her even though she was mad.
Reviewed by Lesly Ramirez Arenas, Student, Truman Elementary
Review shared in April 2021
Rating: ★★★★★ (5 stars)
Interest Level: Grades 4-5
Author/Illustrator Website: https://timprobert.com/
Reading Guide
Lightfall: The Girl and the Galdurian
Written and Illustrated by Tim Probert
HarperAlley, an imprint of HarperCollins Publishers
246 pages
Release Date: September 6, 2020
ISBN: 9780062990464
A review copy was provided by the publisher.
Tags:
2020 Children's Graphic Novels
,
Adventure Graphic Novels
,
Fantasy Graphic Novels
,
Friendship Graphic Novels
,
Good and Evil Ficiton
,
Lesly Ramirez Arenas
,
Quests Fiction
,
Student Reviews
,
Tim Probert