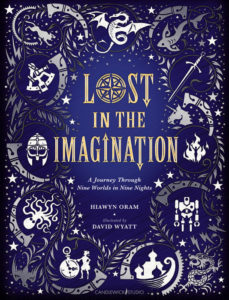 A Journey Through Nine Worlds in Nine Nights
Written by Hiawyn Oram, Illustrated by David Wyatt
This is a story of a person who was stuck in a rut – and then by chance their brother gives them a magical book and a journey begins. They travel to nine different worlds. The places are familiar – taken from different cultures and stories. It reminded me of Gulliver's Travels (one land is taken from that story.) The illustrations are beautiful and detailed – so stunning! The story is interesting and the main characters show growth as they realize the power of creativity. The font is a little small, despite the size of the book. Other than that, the book is very enjoyable and recommended for those who want to spark their imagination.
Reviewed by Jen Johnson, Teacher, Bridger Elementary
Review shared in February 2021
Rating: ★★★★✩ (4 stars)
Interest Level: Grades 5-10
Lost in the Imagination
Written by Hiawyn Oram, Illustrated by David Wyatt
Candlewick Studio
48 pages
Release Date: October 13, 2020
ISBN: 9781536210736
A review copy was provided by the publisher.
Tags:
2020 Children's Fiction
,
Adaptations
,
David Wyatt
,
Fairy Tale Adaptations
,
Fairy Tales Fiction
,
Fantasy Fiction
,
Folklore Fiction
,
Hiawyn Oram
,
Imagination Fiction
,
Jen Johnson
,
Teacher Reviews