OverDrive recently gifted us with this collection of Social and Emotional Learning resources for students and staff. These 51 titles are available for unlimited checkouts through June 2022, so borrow them and share them with your students and colleagues as much as you find them useful!

Log in to Sora with your student number or staff username and password to browse and borrow these books today.
Other Unlimited Checkout Items
Looking for more simultaneous use or unlimited checkout items? OverDrive has also provided us with unlimited checkout collections of Spanish Beginning Readers, Classics, and Sora Sweet Reads for Summer 2021. You can also browse all the items available for unlimited checkout and simultaneous use in the Unlimited Checkouts collection.

Additional Resources
Check out our Sora New Releases and Features page for more collections and posters for new and featured ebooks and audiobooks in Granite's Sora.
Want more information about Sora? Have a suggestion for a book we should purchase? Visit our dedicated Sora help page for Granite students and staff at sora.edtech.fun.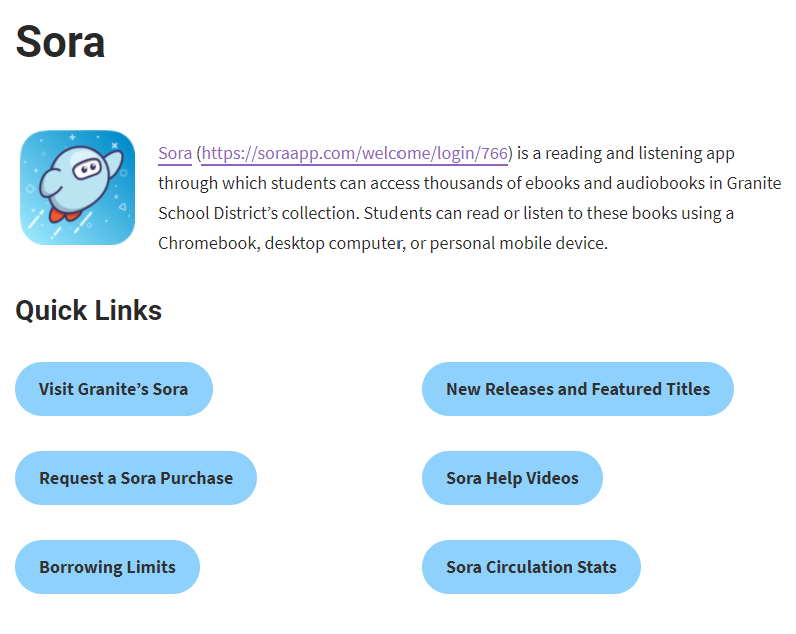 Tags:
Library Promotions
,
Social and Emotional Learning
,
Sora Collections
,
Sora New Releases and Features