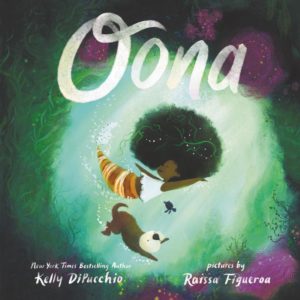 Written by Kelly DiPucchio, Illustrated by Raissa Figueroa
Oona is a cute book about a mermaid who is trying to reach a treasure that is caught in the path of the rift. It's scary, but she really wants it. She tries and tries everything she can think of, until she finally creates a tool that helps her see better. Through the process she learns that sometimes the things you want aren't as important as the journey to reach them.
I love that Oona is a mermaid with dark skin and hair. There aren't very many black mermaids in children's books and this is a great one. Her hair is wonderfully created and she is a strong, smart and beautiful character that reaches her goal as well as learns something new. It teaches kids that even when we want to quit, we should keep trying. Oona did, and she got even more than she wanted!
Reviewed by Merri Rygg, Media Clerk, Harry S. Truman Elementary
Review shared in April 2021
Rating: ★★★★✩ (4 stars)
Interest Level: Grades K-3
Oona
Written by Kelly DiPucchio, Illustrated by Raissa Figueroa
Katherine Tegen Books, an imprint of HarperCollins Publishers
32 pages
Release Date: January 12, 2021
ISBN: 9780062982247
A review copy was provided by the publisher.
Tags:
2021 Picture Books
,
Fantasy Picture Books
,
Humorous Picture Books
,
Imagination Picture Books
,
Kelly DiPucchio
,
Mermaids Picture Books
,
Merri Rygg
,
Perseverance Picture Books
,
Raissa Figueroa
,
Sea Adventure Picture Books