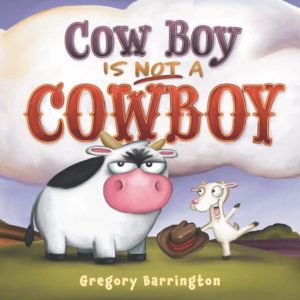 Written and Illustrated by Gregory Barrington
Nothing exciting happens on Humdrum Farm except for what excitement Goat Girl cooks up. She insists the bull, Merle, is a cowboy, eventually inspiring him to fulfill that roll and save the day.
This would be a cute read aloud. The illustrations are colorful, fun, and expressive. Themes expressed are creativity, being confident in being yourself, overcoming past failures, and making new friends.
Reviewed by Shelley Francom, Media Clerk, Pioneer Elementary
Review shared in 03/22/2021
Rating: ★★★★✩ (4 stars)
Interest Level: Grades K-3
Cow Boy Is Not a Cowboy
Written and Illustrated by Gregory Barrington
Harper, an imprint of HarperCollinsPublishers
40 pages
Release Date: October 20, 2020
ISBN: 9780062891365
A review copy was provided by the publisher.
Tags:
2020 Picture Books
,
Cowboys Picture Books
,
Cows Picture Books
,
Farm Picture Books
,
Friendship Picture Books
,
Goats Picture Books
,
Gregory Barrington
,
Humorous Picture Books
,
Shelley Francom