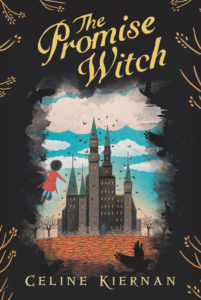 Book 3 of The Wild Magic Trilogy
Written by Celine Kiernan
The head of the Raggedy Witches has cast a spell of drought on all the land. It is up to Mup and her mother to fight the queen and heal the land for good. However, first they must find her and convince all the people of the land to use their own magic which was banned in the past. Meanwhile, Crow has been conjuring some of his own magic which could lead to trouble. Can the land be healed by combined efforts? What will become of the old queen? Will the castle and land ever be truly safe? Find out as you read The Promise Witch.
This book was truly a great third book to the trilogy. It involves friendship and trust, and shows what truly can happen when we all work together as one despite our differences. I would recommend this book for children ages 9-12. Truly a great read, and who can resist following Mup on yet another adventure!
Reviewed by Jalene Magee, Media Clerk, Redwood Elementary
Review shared in June 2021
Rating: ★★★★½ (4.5 stars)
Interest Level: Grades 3-5
The Wild Magic Trilogy, Book 3
The Promise Witch
Written by Celine Kiernan
Candlewick Press
215 pages
Release Date: June 15, 2021
ISBN: 9781536201529
A review copy was provided by the publisher.
Tags:
2021 Children's Fiction
,
Celine Kiernan
,
Climate Change Fiction
,
Dystopian Fiction
,
Fantasy Fiction
,
Jalene Magee
,
Magic Fiction
,
The Wild Magic Trilogy
,
Witches Fiction