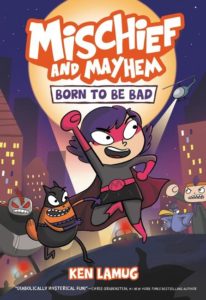 Written and Illustrated by Ken Lamug
Missy is a diabolical villain, but once, she wished she was super. This is the origin story that will explain exactly why such a promising young inventor/aspiring super hero would turn to the dark side. Throughout Missy has to battle her best friend, pulling through all of the chaos and drama that being a villain comes with. Now more than ever Missy questions her path and she must make the ultimate decision that could cost her everything she has.
This is a great super hero graphic novel book. It is a quick and easy read with lovable characters. From start to finish this was a unique take on hero/villain comics. Great for fans of Bad Guys and Dog Man with its comical art style and humor. Kids who feel like they don't fit in and really want to fit in will love this book. I loved the artwork and illustrations throughout the book, even the mix of black and white and color photos.
Reviewed by Kylie Robbins, Media Clerk, Pioneer Elementary School Library
Review shared in September 2021
Rating: ★★★★✩ (4 stars)
Interest Level: Grades 5-8
Author Website: https://www.rabbleboy.com/
Mischief and Mayhem #1
Born To Be Bad
Written andIllustrated by Ken Lamug
Katherine Tegen Books, an imprint of HarperCollinsPublishers/Harper Alley
243 pages
Release Date: June 15, 2021
ISBN: 9780062970756
A review copy was provided by the publisher.
Tags:
2021 Children's Graphic Novels
,
Friendship Graphic Novels
,
Humorous Graphic Novels
,
Ken Lamug
,
Kylie Robbins
,
Mischief and Mayhem
,
Superhero Graphic Novels
,
Supervillains Fiction