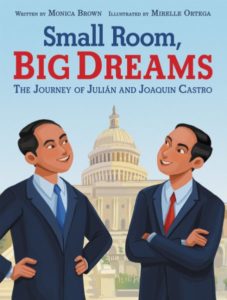 Written by Monica Brown, Illustrated by Mirelle Ortega
Twins Julian and Joaquin Castro chose public service after watching the strong women in their family fight for equal rights and better opportunities. Their journey started in a small room they shared with their grandmother, Mamo, who had come to the US from Mexico as an orphaned 7-year-old in 1922. Though Mamo loved to read and study, she had to drop out of 3rd grade to support her relatives. She spent her life cleaning houses, caring for other people's children, and cooking. Eventually, her daughter, Rosie, graduated at the top of her class and won a scholarship to a local college. She went on to become a community activist and social worker, who encouraged her sons to fight for change.
As Joaquin and Julian grew, they were always together and competed against each other in sports and at school. This pushed them to work hard and qualify to attend Stanford University and then Harvard Law School. After they graduated, Julian and Joaquin took slightly different paths. Julian was elected to the city council and eventually as Mayor of San Antonio in 2009. Joaquin ran for the Texas House of Representatives in 2002 and won. But this was only the beginning for the Castro brothers.
In 2014, Julian received an invitation from President Barack Obama to serve as the secretary of housing and urban development, where he worked to help people whose communities were destroyed by floods and hurricanes. Meanwhile, Joaquin won a seat in the US Congress, which meant both brothers would be working in the nation's capital. And in 2019, Julian Castro even ran for president for the United States! The Castro brothers have continued to build on the strong legacy of their mother and grandmother to make life better for others.
This book is a good example of overcoming adversity, working hard to pursue goals, and working to change the world through public service. The illustrations make this story accessible and relatable, with a detailed author's note at the back and a glossary of Spanish words. It would fit nicely into collections celebrating diversity, Latinx heritage, public service, activism, siblings/family, pursuing dreams and goals.
Reviewed by Andrea LeBaron, Media Clerk, Upland Terrace Elementary School Library
Review shared in September 2021
Rating: ★★★★½ (4.5 stars)
Interest Level: Grades 2-5
Author Website: http://www.monicabrown.net/index.php
Small Room, Big Dreams / Pequena habitacion, grandes suenos
Written by Monica Brown, Illustrated by Mirelle Ortega
Quill Tree Books, an imprint of HarperCollins Publishers
40 pages (unnumbered)
Release Date: May 4, 2021
ISBN: 9780062985736 (English) / 9780063080522 (Spanish)
A review copy was provided by the publisher.
Tags:
2021 Children's Nonfiction
,
Andrea LeBaron
,
Biography
,
Biography Picture Books
,
Family
,
Joaquin Castro
,
Julian Castro
,
Mayors
,
Mexican Americans Biography
,
Mirelle Ortega
,
Monica Brown
,
politicians