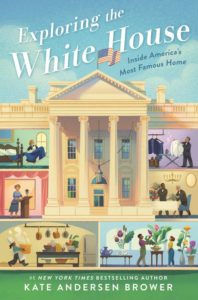 Written by Kate Andersen Brower
Exploring the White House was a fun, fascinating read about America's most famous home. And that is what it is – a home to the president and his family, even though it is also a museum of the past. The book is packed full of first-hand accounts from the support staff and others who have spent their lives in the service of American presidents and their families. There are pop-out "Fun Facts" on many pages with little stories about the presidents and those who worked for them. (Did you know Lyndon Johnson was never satisfied with the water pressure of his shower? He had a whole new pipe and pump system installed to increase the temperature and pressure, but never thought it was hot enough or strong enough!) There are chapters on the secret service, children and their pets who have lived in the White House, first ladies, and even the ghosts that haunt the rooms. There is also a chapter on understanding the complicated history of race in the White House, as 6 presidents brought their slaves with them when they took office.
There is a chapter about the quick transition the staff have to make on moving day, where one president moves out and the other moves in! (Did you know the first family can choose from more than 500 hundred pieces of art in the White House collection and they can borrow from the Smithsonian?) Most surprising to me, the first family is required to pay their own food and drink expenses, along with those of their personal guests! The Carters even asked to be served leftovers to keep expenses down. I thought this book was going to be boring, but with all the fun facts, pictures, and maps, I looked forward to reading each chapter. It will appeal to older elementary kids and a great read for adults too.
Reviewed by Andrea LeBaron, Media Clerk, Upland Terrace Elementary School Library
Review shared in September 2021
Rating: ★★★★★ (5 stars)
Interest Level: Grades 2-5
Exploring the White House
Written by Kate Andersen Brower
Quill Tree Books, an imprint of HarperCollins Publishers
230 pages
Release Date: December 8, 2020
ISBN: 9780062906410
A review copy was provided by the publisher.
Tags:
2020 Children's Nonfiction
,
Andrea LeBaron
,
first ladies
,
Kate Andersen Brower
,
The First Family
,
The White House
,
U.S. History
,
U.S. Presidents
,
Washington D.C.