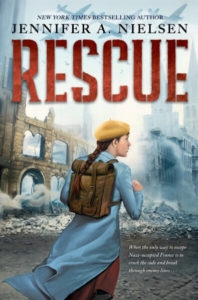 Written by Jennifer A. Nielsen
Rescue is a book based in Nazi-occupied France during World War II. A young girl hasn't seen her father in nearly two years, since he left to serve in the war. One day she discovers an injured British soldier and this sets into motion her discovery of what her parents have secretly been up to, needing to help strangers escape, and her need to use the skills her father taught her on how to crack codes in order to save herself, new friends, and her family.
I loved this book; it is well written, it is captivating, and hard to put down. This book would be great for anyone who enjoys historical fiction. It is best suited for upper elementary students on up to adult. It was a very enjoyable read.
Reviewed by Emily Jex, Media Clerk, Fox Hills Elementary School Library
Review shared in September 2021
Rating: ★★★★★ (5 stars)
Interest Level: Grades 4-9
Author Website: http://jennielsen.com/
Rescue
Written by Jennifer A. Nielsen
Scholastic Press
387 pages
Release Date: March 2, 2021
ISBN: 9781338620993
A review copy was provided by the publisher.
Tags:
2021 Children's Fiction
,
Ciphers Fiction
,
Emily Jex
,
France Fiction
,
Historical Fiction
,
Jennifer A. Nielsen
,
Jennifer A. Nielson
,
War Fiction
,
World War II Fiction