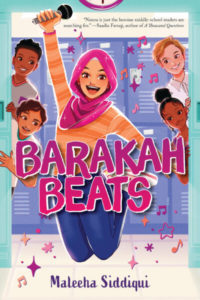 Written by Maleeha Siddiqui
The story Barakah Beats was just as cute as the cover! Nimra is a 12 year old Pakistani American girl starting 7th grade and going to public school for the first time in her life. Nimra wants to fit in so badly that she starts telling small lies and doesn't stay true to herself or her faith. As she gains more confidence in herself, she finds out who her true friends really are.
I learned a lot about the Muslim faith in this story, but I didn't understand some of the Muslim words and terms used, especially for the clothing. In the end, I was wishing there was a glossary at the beginning or end of the book for the words used.
Reviewed by Jennifer Young, Media Clerk, Woodstock Elementary School Library
Review shared in November 2021
Rating: ★★★★½ (4.5 stars)
Interest Level: Grades 5-7
Author Website: maleehasiddiqui.com
Barakah Beats
Written by Maleeha Siddiqui
Scholastic Press
277 pages
Release Date: October 19, 2021
ISBN: 9781338702064
A review copy was provided by the publisher.
Tags:
2021 Middle Grade Fiction
,
Asian Americans Fiction
,
Boy Bands Fiction
,
Contemporary Fiction
,
Friendship Fiction
,
Humorous Fiction
,
Jennifer Young
,
Maleeha Siddiqui
,
Middle Schools Fiction
,
Musical Bands Fiction
,
Muslims Fiction
,
Pakistani Americans Fiction
,
Preteen Girls Fiction
,
Rock Groups Fiction