For Sora's latest Big Library Read, the bestselling young adult novel Five Total Strangers by Natalie D. Richards is available for immediate unlimited reading and listening (no waitlists or holds) for Granite students in Grades 9-12, as well as all Granite staff members.
Parents and other community members can also access this Big Library Read through the Salt Lake County Library.
Log in to Granite's Sora at https://soraapp.com with your student number or staff username and current password to get the book today!
Five Total Strangers Details and Events
Of Five Total Strangers, Big Library Read says,
A "page-turning thriller that will keep readers guessing until the very end" (School Library Journal) about a road trip in a snowstorm that turns into bone-chilling disaster, from New York Times bestselling mystery author and "master of tension" (BCCB) Natalie D. Richards.

She thought being stranded was the worst thing that could happen. She was wrong.

Mira needs to get home for the holidays. Badly. But when an incoming blizzard results in a canceled connecting flight, it looks like she might get stuck at the airport indefinitely.

And then Harper, Mira's glamorous seatmate from her initial flight, offers her a ride. Harper and her three friends can drop Mira off on their way home. But as they set off, Mira realizes fellow travelers are all total strangers. And every one of them is hiding something.

Soon, roads go from slippery to terrifying. People's belongings are mysteriously disappearing. Someone in the car is clearly lying, and may even be sabotaging the trip—but why? And can Mira make it home alive, or will this nightmare drive turn fatal?

Perfect for readers who love:

– YA horror books for teens

– Mystery books for teens

– Natasha Preston, Megan Miranda, Karen McManus and Ruth Ware
As part of the Big Library Read, Sora/OverDrive has provided a Discussion Guide for the book, and they are hosting a virtual event with author Natalie D. Richards on November 8, 2021 at 12 PM Mountain Time.
Big Library Read Posters and Graphics
The poster below includes a QR code that links directly to the Big Library Read page in Granite's Sora. Click "Download" for a printable PDF version, or right-click and choose "Save Image as" for a file that can be posted on a school, library, or classroom website or social media post. You can also visit https://biglibraryread.com/marketing-materials/ for more graphics and resources to promote the Big Library Read.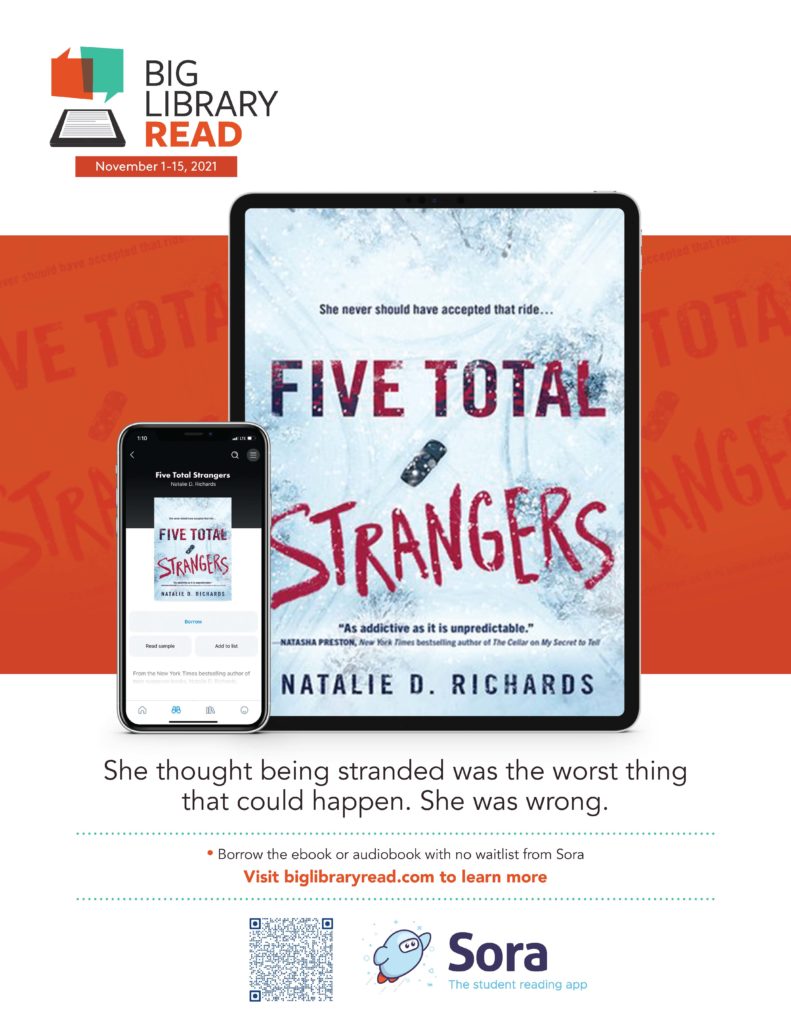 About Granite's Sora
Want more information about Sora? Have a suggestion for a book we should purchase? Visit our dedicated Sora help page for Granite students and staff at sora.edtech.fun.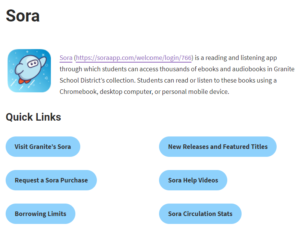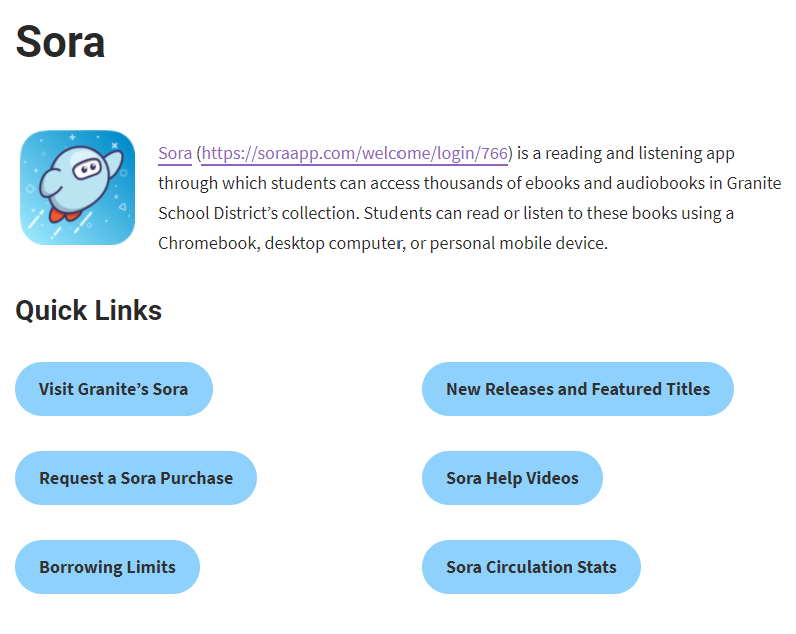 Also, check out our Sora New Releases and Features page for more collections and posters for new and featured ebooks and audiobooks in Granite's Sora.
Tags:
Big Library Read
,
Five Total Strangers
,
Library Promotions
,
Mystery Fiction
,
Natalie D. Richards
,
Sora New Releases and Features
,
Thriller Fiction