We recently held the annual Elementary Library Book Walk!
Elementary Media Clerks came by appointment to individually browse a collection of new and well-reviewed releases in children's literature curated by Marci Bishop, Elementary District Library Specialist. The books displayed throughout the Educational Technology office spaces by Marci and assistant Debbie Singer.
The Book Walk included 2021 releases in picture books, children's fiction, children's nonfiction, graphic novels, and more. Media clerks used the browsing opportunity to plan new purchases for school libraries, discover read-aloud options, find titles to recommend to students, and more.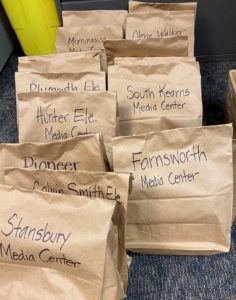 Each school was also able to pick books from the collection, which were sent to their libraries at the end of the book walk.
For those who couldn't make it or want to take a look at something again, we recorded a walk through of all the books on display last week. We are also sharing the book list. Enjoy!
Tags:
Book Lists
,
Collection Development
,
Debbie Singer
,
Elementary Book Lists
,
Elementary Book Walk
,
Elementary Media Clerks
,
Library Professional Development
,
Marci Bishop
,
Readers Advisory