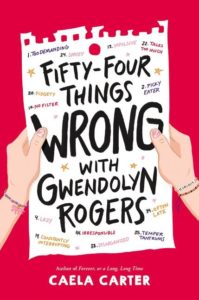 Written by Caela Carter
This book is very well written and has a great story that many could relate to. To me it is a must-read if you work with children in any capacity, and especially neurodiverse children. It's about Gwendolyn, who thinks everything is wrong with her, that no matter what she does, she is bad. It's about her journey and those around her to understand how her brain works differently than others.
Gwen is a fifth-grader who loves horses, her hamster, fish, and her half-brother Tyler. She is bright and intelligent, but she's forgetful, argumentative, reactive, and can be rude, according to her list of fifty-four things that are wrong with her. Gwen continues to get in trouble at school. Her mom is exhausted, and Gwen doesn't understand why she can't have a diagnosis of ADHD like Tyler, who has problems like her in school. This is a heartbreaking and eye-opening story. The story conveys just how frustrated Gwen would get, how her feelings of anger and sadness would crawl up inside her, and how she would have to battle her own thoughts and feelings. Gwen thought that something was wrong with her but when she meets Dr. Nessa she finally feels listened to and when they discover Gwen's list of fifty-four things real progress can be made. This story portrayed how positive affirmation, proper resources, diagnosis (if needed), and of course loving support systems are so crucial, not just to neurodiverse children but to all children.
I feel this book is more geared towards possibly 6th grade and older students. It is a story that many could relate to about feeling different and having struggles within their selves. In this story she does have a friend who is nonbinary and they have a discussion about what that means.
Reviewed by Kylie Robbins, Media Clerk, Pioneer Elementary School Library
Review shared in December 2021
Rating: ★★★★★ (5 stars)
Interest Level: Grades 6+
Fifty-Four Things Wrong With Gwendolyn Rogers
Written by Caela Carter
Quill Tree Books, an imprint of HarperCollins Publishers
317 pages
Release Date: October 19, 2021
ISBN: 9780062996633
A review copy was provided by the publisher.
Tags:
2021 Middle Grade Fiction
,
Attention-Deficit Hyperactivity Disorder Fiction
,
Behavior Fiction
,
Caela Carter
,
Horses Fiction
,
Kylie Robbins
,
Neurodiversity Fiction
,
Realistic Fiction
,
Schools Fiction
,
Therapy Fiction