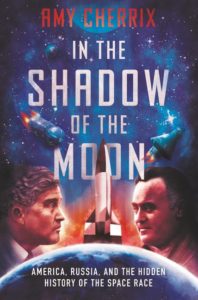 America, Russia, and the Hidden History of the Space Race
Written by Amy Cherrix
Everyone knows how the space race ended in 1969, but how much do you know about the events leading up to it and the people behind it? Cherrix introduces two brilliant but controversial rocket scientists. Former Nazi and SS officer Werhner von Braun was brought to America from Germany to spearhead the U.S. program in a post-WWII mission called Operation Paperclip. Sergei Pavlovich Korolev, a former innocent "traitor" forced into Gulag camps, was rehabilitated by Stalin and charged with developing the Russian effort. On a quest for a weapon that they could use against their enemies, the two countries competed to be the first to get men to land on the moon. Reading, at time, more like a Cold War Spy novel, readers learn about an interesting side of the space race that remained a mystery for decades. Filling in gaps of history from the time after the atom bomb to when the United States landed on the moon, Cherrix uses primary sources, biographical, and technological facts to share an in-depth look at what it took to land on the moon ahead of the Russians. The narrative is engaging, fast-paced, and extensive. Readers who like the book Hidden Figures: The Young Reader's Edition, history, and science will want to pick this one up.
Reviewed by Jessica Moody, Library Technology Coach, Olympus Jr. High School Library
Review shared in December 2021
Rating: ★★★★★ (5 stars)
Interest Level: Grades 6-12
In The Shadow of the Moon: American, Russia and the Hidden History of the Space Race
Written by Amy Cherrix
Balzer + Bray
322 pages
Release Date: February 9, 2021
ISBN: 9780062888754
A review copy was provided by the publisher.
Tags:
2021 YA Nonfiction
,
Amy Cherrix
,
Cold War
,
Jessica Moody
,
Military History
,
narrative nonfiction
,
Rocketry
,
Science History
,
Sergei Pavlovich Korolev
,
Space Race
,
STEM
,
Technology History
,
U.S. History
,
Werhner von Braun
,
World history