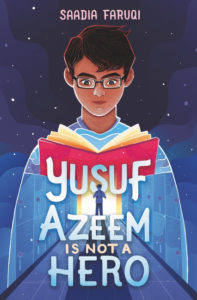 Written by Saadia Faruqi
This book tells a wonderful story, from a perspective that often doesn't get enough attention, but it does so slowly. It took several chapters for the story to really get going. I suspect most young readers would tire of this book before getting to "the good part."
Yusuf is just starting middle school as the 20th anniversary of 9/11 approaches. As an introverted, intellectual Muslim boy, bullies target him. He tries to focus on an upcoming robotics competition, but soon his entire family and church community are subjected to the cruelty of hypocritical "patriots." Yusuf's story is a stirring commentary on the prejudices and injustices that plague our society, subjecting innocent people to the "judgement" of bigots. One of the greatest lines is when Yusuf's amma says, "The people must unite against hatred, and choose love." It really emphasizes the book's message about community and peace.
I would recommend this book to any kids who feel marginalized, bullied, or discriminated against. Just warn them that it starts slow.
Reviewed by Anna Wendorf, Media Clerk, Diamond Ridge Elementary School Library
Review shared in October 2021
Rating: ★★★½✩ (3.5 stars)
Interest Level: Grades 3-6
Yusuf Azeem Is Not a Hero
Written by Saadia Faruqi
Quill Tree Books, an imprint of HarperCollinsPublishers
357 pages
Release Date: September 7, 2021
ISBN: 9780062943255
A review copy was provided by the publisher.
Tags:
2021 Middle Grade Fiction
,
Anna Wendorf
,
Bullying Fiction
,
Community Fiction
,
Discrimination Fiction
,
Family Life Fiction
,
Friendship Fiction
,
Middle Schools Fiction
,
Muslims Fiction
,
Realistic Fiction
,
Saadia Faruqi
,
School Fiction
,
September 11 Terrorist Attacks
,
Texas Fiction