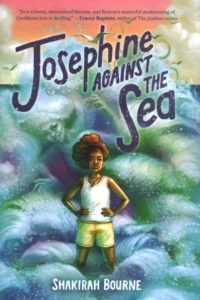 Written by Shakirah Bourne
The cover of this book shows Josephine standing strong against the sea and Mariss, a character based on the folklore of the Caribbean. The cover really drew me in to this heartfelt story. Josephine is a spunky and lovable 11 year old girl living in Barbados with her fisherman father. She wants to play cricket on the school team and spend time with her father watching cricket on tv following the loss of her mom five years ago. She and her best friend Ahaki (on the autism spectrum) work together to solve problems and adventures in this fast paced story. It is a good follow up to The Jumbies, a popular book in our district last year.
Reviewed by Dian Morrison, Media Clerk, Woodstock Elementary School Library
Review shared in January 2022
Rating: ★★★★✩ (4 stars)
Interest Level: Grades 4-7
Josephine Against the Sea
Written by Shakirah Bourne
Scholastic Press
293 pages
Release Date: July 6, 2021
ISBN: 9781338642087
A review copy was provided by the publisher.
Tags:
2021 Middle Grade Fiction
,
Adventure Fiction
,
African Diaspora Fiction
,
Barbados Fiction
,
Caribbean Fiction
,
Cricket Fiction
,
Dian Morrison
,
Fantasy Fiction
,
Mythical Creatures Fiction
,
Mythological Fiction
,
Shakirah Bourne
,
Sports Fiction