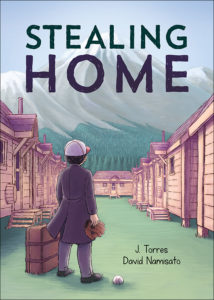 Written by J. Torres, Illustrated by David Namisato
What happens when the community you've lived in all your life is suddenly uprooted and shipped off to camps? What becomes of your hobbies? Your dreams? Your life? Stealing Home is the story of Sandy Saito, a young boy who loves baseball, especially going to games with his dad to watch the Asahi team in Vancouver, British Columbia. When the Japanese attack Pearl Harbor everything changes for Sandy and his family, as they are separated from his father and sent to a camp. Will Sandy ever be able to play baseball again or enjoy anything from his life before the camp? This beautifully illustrated graphic novel is moving, inspiring, and informative.
Reviewed by Jennifer Porter, Media Clerk, Crestview Elementary School Library
Review shared in January 2022
Rating: ★★★★★ (5 stars)
Interest Level: Grades 3-6
Stealing Home
Written by J. Torres, Illustrated by David Namisato
Kids Can Press
111 pages
Release Date: October 5, 2021
ISBN: 9781525303340
A review copy was provided by the publisher.
Tags:
2021 Children's Graphic Novels
,
Canada Fiction
,
David Namisato
,
Forced Migration Fiction
,
Historical Fiction
,
Historical Fiction Graphic Novels
,
J. Torres
,
Japanese Internment Camps Fiction
,
Jennifer Porter
,
Racism Fiction
,
World War II Fiction