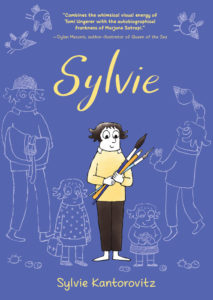 Written and Illustrated by Sylvie Kantorovitz
This is the author's memoir of the challenges of growing up and the experiences that shaped her. She talks about her insecurities because of prejudice she encountered with being a French Jew born in Morocco, Africa, who moved back to France. Her parents had a volatile relationship and she highlights the negative traits of her mother and the positive traits of her father. She shares her relationships with family, friends, and boys. Her father played an integral role in her love of teaching and in pursuing art. I think most children would find something they could relate to.
Reviewed by Shelley Francom, Media Clerk, Pioneer Elementary
Review shared in April 2021
Rating: ★★★✩✩ (3 stars)
Interest Level: Grades 4-8
Author/Illustrator Website: sylviekantorovitz.com
Sylvie
Written and Illustrated by Sylvie Kantorovitz
Walker Books
341 pages
Release Date: February 9, 2021
ISBN: 9781536207637
A review copy was provided by the publisher.
Tags:
2021 Children's Graphic Novels
,
Artists
,
Artists Biography
,
Autobiography
,
Autobiography Graphic Novels
,
Biography
,
Family Graphic Novels
,
Illustrators
,
Jews Biography
,
Memoir Graphic Novels
,
Shelley Francom
,
Sylvie Kantorovitz
,
Women Biography