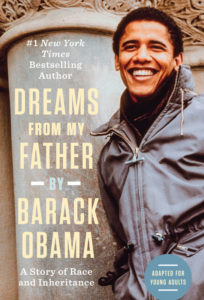 A Story of Race and Inheritance
Written by Barack Obama
This is a beautifully written book about President Obama, from his humble beginnings to his rise as a US Senator. The way he writes it is easy to put yourself in his shoes and envision what he experienced. This would be a great addition to any collection, as it is a modern autobiography of our 44th President. This book could be a "mirror" to many of our underrepresented students – showing them they can do big things and make big dreams come true. I would love to see this book used in a history class learning about American Presidents or in an ELA class about writing styles and narratives. This was a great book and I recommend it to anyone!
Reviewed by Erica Owens, Library Technology Coach, Bonneville Jr High School
Review shared in February 2022
Rating: ★★★★★ (5 stars)
Interest Level: Ages 12 – 18
Dreams of My Father (Adapted for Young Adults)
Written by Barack Obama
Delacorte Press
302 pages
Release Date: October 5, 2021
ISBN: 9780385738729 
A review copy was provided by the publisher.
Tags:
2021 YA Nonfiction
,
African Americans Biography
,
Autobiography
,
Barack Obama
,
Biography
,
Erica Owens
,
Lawyers Biography
,
Memoir
,
Politicians Biography
,
Racial Mixed People Biography
,
Racism Fiction
,
U.S. History
,
U.S. Presidents
,
Young Reader Adaptations