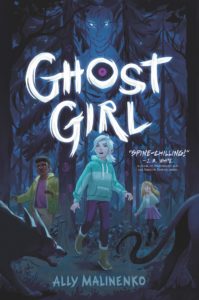 Written by Ally Malinenko
"Zee Pluckett loves ghost stories. She just never expected living one."
She has a normal life of a school child until one stormy night, people start going missing and there is a strange new principal in town. He seems to make whatever anyone wants appear. But there are also some strange dogs in town that talk, and then there is also this ghost which keeps showing up to Zee. When she tells her classmates, only her friend Elijah believes her. The rest start nicknaming her zero and ghost girl. Things in town continue to get more strange and it will take Zee, Elijah, and her arch nemesis Nellie to work together to find a happy ending for the town.
This book was a great read, it shows the importance of family and friendship. It also shows that sometimes people are not always what they seem and that everyone has their own story behind the lives they seem to have. I would recommend this book for kids who llike spooky stories between the 3-5th grade. A great book full of surprises and mystery.
Reviewed by Jalene Magee, Media Clerk, Redwood Elementary School Library
Review shared in November 2021
Rating: ★★★★✩ (4 stars)
Interest Level: Grades 3-5
Ghost Girl
Written by Ally Malinenko
Katherine Tegen Books, an imprint of HarperCollinsPublishers
275 pages
Release Date: August 10, 2021
ISBN: 9780063044609
A review copy was provided by the publisher.
Tags:
2021 Children's Fiction
,
Ally Malinenko
,
Bullying Fiction
,
Friendship Fiction
,
Ghosts Fiction
,
Horror Fiction
,
Jalene Magee
,
Paranormal Fiction
,
Supernatural Fiction