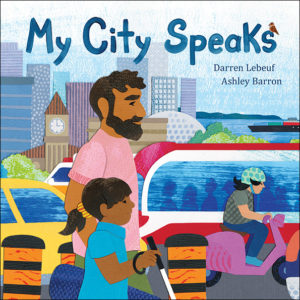 Written by Darren Lebeuf, Illustrated by Ashley Barron
Do you hear your city when it speaks? Do you listen? In this picture book I followed a young girl as she travels through her city and slowly recognized that she doesn't use her eyes to see her city. She uses her ears to explore her city. I love the mixed use of watercolor and cut-paper collage that the artist used in this book. With such beautiful pictures to illustrate what the city looks like, the words of this girl who doesn't see with her eyes take on new meaning. I think young children will benefit from having this read aloud to them, but they will also enjoy checking it out and having more time to explore the pages. Beautiful book!
Reviewed by Merri Rygg, Media Clerk, Harry S Truman Elementary School Library
Review shared in February 2022
Rating: ★★★★½ (4.5 stars)
Interest Level: Grades PreK-3
My City Speaks
Written by Darren Lebeuf, Illustrated by Ashley Barron
Kids Can Press
32 pages
Release Date: September 7, 2021
ISBN: 9781525304149
A review copy was provided by the publisher.
Tags:
2021 Picture Books
,
Ashley Brown
,
Blindness Picture Books
,
City Picture Books
,
Darren Lebeuf
,
Family Picture Books
,
Fathers and Daughters Picture Books
,
Merri Rygg
,
Senses Picture Books
,
Sounds Picture Books