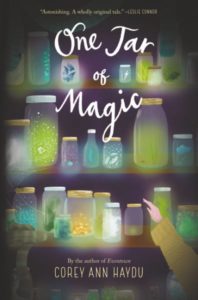 Written by Corey Ann Haydu
Under the guise of a fantasy story, this children's fiction book focuses more on a troubled and realistic modern-day family life than it does anything from imagination. And I loved it. The concept of catching unpredictable, wonderful, but temporary magic in jars on New Years Day is absolutely enchanting and original, yet pales in comparison with the horrifying truth about the main character's family life and the long-term abuse she has endured by the hands of her father that goes ignored and denied for many years. The characters are wonderful and relatable, the plot turns are surprising but meaningful, and the themes behind it all are both deep and life-illuminating. This story resonated with me and can resonate with so many children who experience an unsettling, even abusive home life and can serve to help realize the truth of it all that we try so hard to ignore. Emotional and mental abuse are just as important to discuss with children as is physical abuse and this novel can open up that discussion with young people, and therefore should be shared with older elementary students who may be experiencing childhood trauma. All in all, an absolutely amazing book and I highly recommend it!
Reviewed by Natalie Dean, Media Clerk, Woodrow Wilson Elementary
Review shared in April 2022
Rating: ★★★★½ (4.5 stars)
Interest Level: Grades 3-6
One Jar of Magic
Written by Corey Ann Haydu
Katherine Tegen Books, an imprint of HarperCollins Publishers
340 pages
Release Date: February 9, 2021
ISBN: 9780062689856
A review copy was provided by the publisher.
Tags:
2021 Middle Grade Fiction
,
Abuse Fiction
,
Corey Ann Haydu
,
Family Life Fiction
,
Family Secrets Fiction
,
Fantasy Fiction
,
Fathers and Daughters Fiction
,
Identity Fiction
,
Magic Fiction
,
Natalie Dean