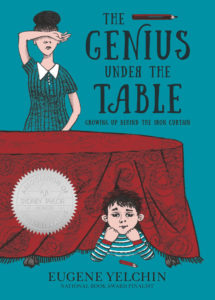 Written and Illustrated by Eugene Yelchin
Eugene Yelchin shares his memoir of growing up in Cold War Russia. Yevgeny lives in a small apartment with his Mom, Dad, Grandma, and his brother Victor. Victor has talent as a figure skater and an athlete. He will survive in Russia. Mom is sure that Yevgeny has talent too. It just needs to be discovered. Yevgeny wants to understand his place within his family and the community. However, there are many topics that cannot be openly discussed, as he comes to realize. He uses the underside of the dining room table, his bedroom, as a place to express himself. Yevgeny may have talent after all. The illustrations are a perfect fit to the story. I laughed. I cried. I cheered.
Reviewed by Diann Cox, Media Clerk, Farnsworth Elementary School Library
Review shared in April 2022
Rating: ★★★★½ (4.5 stars)
Interest Level: Grades 4-7
The Genius Under the Table: Growing Up Behind the Iron Curtain
Written and Illustrated by Eugene Yelchin
Candlewick Press
201 pages
Release Date: October 12, 2021
ISBN: 9781536215526
A review copy was provided by the publisher.
Tags:
2021 Children's Nonfiction
,
2021 YA Nonfiction
,
Artists
,
Authors
,
Autobiography
,
Biography
,
Cold War
,
Diann Cox
,
Eugene Yelchin
,
Family
,
narrative nonfiction
,
Russia
,
Self Awareness
,
Social Awareness
,
Soviet Union