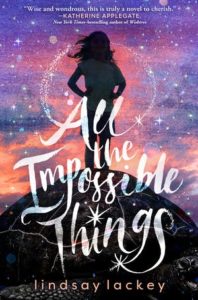 Written by Lindsay Lackey
Twelve-year-old Ruby, or Red, as she prefers to be called, has been moved from foster home to foster home ever since her grandmother died three years ago. She finally begins to feel at home with her new foster parents, the Grooves, an eccentric older couple who run a petting zoo, complete with a dancing mule and a giant tortoise. Even as she begins to settle in, she dreams of the day her mother will be released from jail and they can be together again. I loved the notebook of "Impossible Things" that Red and her grandmother made together. It contained examples of things that were once thought to be impossible, like going to the moon, that were eventually accomplished. Her grandmother recognized that Red's life wasn't going to be easy and the "Impossible Things" notebook was a message to Red that she could overcome and do hard things.
As much as I enjoyed the book, I didn't love the fantasy aspect. The destruction caused as Red tried to gain control of her power over the wind gave me anxiety! Probably because as an adult I worried about innocent people getting hurt and the cost of all the damage. Kids might be oblivious enough to these things that it won't bother them as much.
Reviewed by Vala'dee Tanner, Media Clerk, Rosecrest Elementary
Review shared in March 2021
Rating: ★★★★✩ (4 stars)
Interest Level: Grades 4-8
All the Impossible Things
Written by Lindsay Lackey
Roaring Brook Press
375 pages
Release Date: September 3, 2019
ISBN: 9781250202864
A review copy was provided by the publisher.
Tags:
2019 Children's Fiction
,
Fantasy Fiction
,
Foster Care Fiction
,
Lindsay Lackey
,
Magical Realism Fiction
,
Mothers and Daughters Fiction
,
Realistic Fiction
,
Vala'dee Tanner
,
Wind Fiction