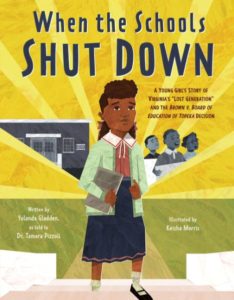 Written by Yolanda Gladden, Illustrated by Keisha Morris
This is the story of Yolanda Gladden, an African-American girl growing up in Virginia during the tumultuous years after the Brown v. Board of Education decision. Yolanda would have started school in 1959, 4 years after the new law passed. But by the time the first official day came around, every school in Yolanda's county was shut down by white lawmakers. Black teachers, leaders and parents rallied together to create their own education system – one where black students could keep learning even while schools remained closed. It was in homes and churches that black children of all ages met together and learned traditional subjects, mixed in with the rich history of African people.
This is a powerful story about resilience and creativity in the face of discrimination and disappointment. These home schools taught black children for 5 years and by the time the Supreme Court ruled the shutdown unconstitutional, Yolanda rejoined a public school and was among the highest-scoring children in the class. This story fits well with collections and discussions on civil rights, African-American heritage, US history, and hidden figures of the 20th century. There is also a nice tie-in to discussions about Covid and dealing with the aftermath of recent school shutdowns.
Reviewed by Andrea LeBaron, Media Clerk, Upland Terrace Elementary School Library
Review shared in May 2022
Rating: ★★★★½ (4.5 stars)
Interest Level: Grades K-5
When Schools Shut Down
Written by Yolanda Gladden, Illustrated by Keisha Morris
Harper, an imprint of HarperCollinsPublishers
40 pages
Release Date: January 11, 2022
ISBN: 9780063011168
A review copy was provided by the publisher.
Tags:
2022 Children's Nonfiction
,
African Americans
,
Andrea LeBaron
,
Brown v. Board of Education
,
Civil Rights Movement
,
education
,
Keisha Morris
,
Nonfiction Picture Books
,
Personal Narratives
,
Schools
,
Segregation
,
U.S. History
,
Yolanda Gladden