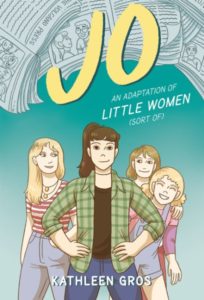 Written and Illustrated by Kathleen Gros
Even though this isn't a true story, the style reminds me of Reina Telgemeier and Shannon Hale's graphic novels portraying real life stories. And since it is based on Louisa May Alcott's Little Women, it already has a great storyline. The main difference is that Jo in this story is exploring her crush on another girl that she works with on the school newspaper. The love that Marmee has for Jo in the original book is portrayed well in this adaptation. Jo talking to her mother about liking other girls is a good example of how a parent can love their child no matter what. The normal troubles that Jo has at school make this book easy to relate to. As she is discovering more about herself and shares her feelings with the reader, it is hard not to root for her. This is a quick, pleasant read with a good message.
Reviewed by Merri Rygg, Librarian, Truman Elementary
Review shared in June 2022
Rating: ★★★★✩ (4 stars)
Interest Level: Grades 5-9
Jo: An Adaptation of Little Women (Sort of)
Written and Illustrated by Kathleen Gros
Quill Tree Books, imprint of HarperCollinsPublishers/HarperAlley
263 pages
Release Date: September 22, 2020
ISBN: 9780062875969
A review copy was provided by the publisher.
Tags:
2020 Middle Grade Graphic Novels
,
2020 YA Graphic Novels
,
Family Graphic Novels
,
Friendship Graphic Novels
,
Kathleen Gros
,
Little Women
,
Louisa May Alcott
,
Merri Rygg
,
Realistic Graphic Novels