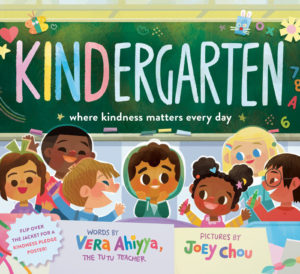 Written by Vera Ahiyya, Illustrated by Joey Chou
Kindness really matters in this book! I love how author Vera Ahiyya, who also teaches kindergarten, uses the Kindness Pledge to teach kindness in this story. I love the idea of using a real life example and turning it into a story. I also loved the characters, the illustrations, and the included bonus book jacket that has a Kindness Pledge poster printed on the reverse side to display in a classroom or home for the reader(s). Such a great idea for a story!
This would be an awesome addition to any kindergarten library and to read the first week of school. The Kindness Pledge poster could also be used for Preschool through 2nd Grade.
Reviewed by Jennifer Young, Media Clerk, Woodstock Elementary
Review shared in July 2022
Rating: ★★★★★ (5 stars)
Interest Level: Kindergarten
KINDergarten: Where Kindness Matters Every Day
Written by Vera Ahiyya, Illustrated by Joey Chou
Random House Studio
40 pages
Release Date: June 21, 2022
ISBN: 9780593484623
A review copy was provided by the publisher.
Tags:
2022 Picture Books
,
Jennifer Young
,
Joey Chou
,
Kindergarten Picture Books
,
Kindness Picture Books
,
Relationships Picture Books
,
School Picture Books
,
Vera Ahiyya