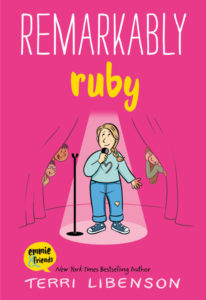 Written and Illlustrated by Terri Libenson
This book was an amazing story about two used-to-be friends. It tells their story of reuniting. I really like this book and recommend you to read it. Read this book and you will be happy all day.
Reviewed by Kevin, Student, Eisenhower Jr. High
Review shared in June 2022
Rating: ★★★★★ (5 stars)
Interest Level: Grades 6-12
Remarkably Ruby
Written and Illustrated by Terri Libenson
Balzer + Bray, an imprint of HarperCollinsPublishers
376 pages
Release Date: May 3, 2022
ISBN: 9780063139183
A review copy was provided by the publisher.
Tags:
2022 Middle Grade Graphic Novels
,
Emmie & Friends
,
Friendship Graphic Novels
,
Kevin Rygg
,
Middle School Graphic Novels
,
Realistic Graphic Novels
,
Student Reviews
,
Terri Libenson