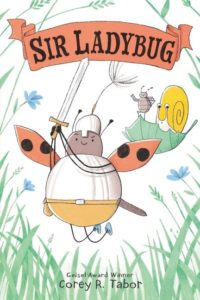 Written and Illustrated by Corey Tabor
Sir Ladybug is a graphic novel for young readers. This is a fun, silly, adventure book with great illustrations. It shows friendship between different kinds of insects who help each other. It tells a story of learning to be brave even when you don't feel brave.
Reviewed by Debbie Brady, Librarian, Oakwood Elementary
Review shared in June 2022
Rating: ★★★★½ (4.5 stars)
Interest Level: Grades 2-5
Sir Ladybug
Written and Illustrated by Corey Tabor
Balzer + Bray, HarperAlley, imprints of HarperCollinsPublishers
68 pages
Release Date: March 29, 2022
ISBN: 9780063069060
A review copy was provided by the publisher.
Tags:
2022 Children's Graphic Novels
,
Adventure Graphic Novels
,
Cooperation Fiction
,
Corey Tabor
,
Courage Fiction
,
Debbie Brady
,
Friendship Graphic Novels
,
Helpfulness Fiction
,
Humorous Graphic Novels
,
Insects Fiction
,
Ladybugs Fiction