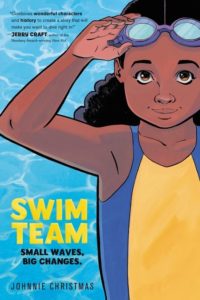 Written and Illustrated by Johnnie Christmas
Bree has just moved from New York to Florida with her dad and is excited for her first day of middle school. She's especially excited to get into the Math Puzzles class and join the math club. She soon finds out that all of the clubs she's interested in are full and the only opening is in Swim 101. Bree hates swimming pools and is embarrassed to admit that she doesn't know how to swim. With a lot of help from her neighbor and friends, she is able to get over her fear of swimming and helps to create a better swim team for her school.
The illustrations were just okay but the story was great! I would recommend this book to Elementary/Middle School aged students, especially if they have an interest in swimming.
Reviewed by Jennifer Young, Media Clerk, Woodstock Elementary
Review shared in June 2022
Rating: ★★★★½ (4.5 stars)
Interest Level: Grades 4-8
Swim Team
Written and Illustrated by Johnnie Christmas
HarperAlley, an imprint of HarperCollinsPublishers
245 pages
Release Date: May 17, 2022
ISBN: 9780063056763
A review copy was provided by the publisher.
Tags:
2022 Middle Grade Graphic Novels
,
Contemporary Fiction
,
Jennifer Young
,
Johnnie Christmas
,
Middle School Graphic Novels
,
Middle Schools Fiction
,
Neighbors Fiction
,
Realistic Fiction
,
Realistic Graphic Novels
,
Sports Fiction
,
Swimming Fiction