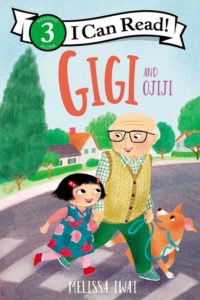 Written and Illustrated by Melissa Iwai
I am always looking for books that will teach my elementary school children about different cultures and this is the perfect book to fill that role. It is a story about a little girl whose Japanese grandfather is coming to live with her. She has so many ideas about how much fun it will be to do things with him, from playing tag, to reading books and playing with her dog. She has to learn that in Japan some things are done differently and therefore things do not go as planned. Once she learns a bit more about customs in Japan, she and her grandfather are able to find common ground together. I like how the book also teaches simple words in Japanese for the kids to learn.
Reviewed by Heather Arauzo, Librarian, Granger Elementary
Review shared in August 2022
Rating: ★★★★½ (4.5 stars)
Interest Level: Grades 1-3
Gigi and Ojiji
Written and Illustrated by Melissa Iwai
Harper, an imprint of HarperCollinsPublishers
31 pages
Release Date: May 3, 2022
ISBN: 9780063208063 (hardcover) / 9780063208056 (paperback)
A review copy was provided by the publisher.
Tags:
2022 Easy Readers
,
Asian Americans Picture Books
,
Grandparents Picture Books
,
Heather Arauzo
,
Japanese Americans Picture Books
,
Melissa Iwai
,
Racially Mixed People Picture Books