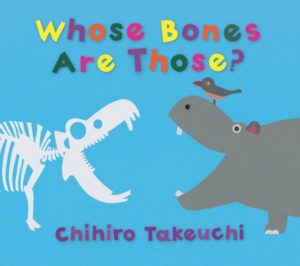 Written and Illustrated by Chihiro Takeuchi
This is a great little book that will get young minds thinking. I love the simplicity and appeal that this book has. This will be a great read aloud book, as well as a book that kids will want to check out and take back to class with them. And as a bonus, there are some fun facts at the end to share with the kids that they will ooh and ahh over.
I recommend this for the little kids and the big kids who read it to them!
Reviewed by Merri Rygg, Librarian, Harry S Truman Elementary
Review shared in September 2022
Rating: ★★★★½ (4.5 stars)
Interest Level: Grades PreK-2
Whose Bones Are Those?
Written and Illustrated by Chihiro Takeuchi
Candlewick Studio, an imprint of Candlewick Press
40 pages
Release Date: June 7, 2022
ISBN: 9781536221459
A review copy was provided by the publisher.
Tags:
2022 Children's Nonfiction
,
Animals
,
Biology
,
Bones
,
Chihiro Takeuchi
,
Merri Rygg
,
Skeletons
,
zoology