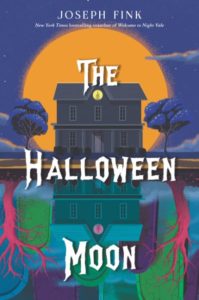 Written by Joseph Fink
Ester Gold is too old to go trick-or-treating, at least according to her parents. Why are they determined to ruin her favorite holiday? She is determined to secretly make her costumes and trick-or-treat anyways. But when the big night comes something is off. Everyone is un-naturally sleepy, and they won't open the door. Even the best houses seem to have fallen victim to the oddity. When fate brings her together with her worst enemy and her strange grown-up neighbor it's up to this crew to figure out what is happening. This middle grade novel is a must read for fans of suspense, adventure, and Halloween. Grades 3 – 7.
Reviewed by Jessica Moody, LMETS, Olympus Jr High
Review shared in November 2021
Rating: ★★★★✩ (4 stars)
Interest Level: Grades 3-7
The Halloween Moon
Written by Joseph Fink
Quill Tree Books, an imprint of HarperCollinsPublishers
271 pages
Release Date: July 27, 2021
ISBN: 9780063020979 (hardcover) / 9780063020986 (paperback)
A review copy was provided by the publisher.
Tags:
2021 Children's Fiction
,
2021 Middle Grade Fiction
,
Fear Fiction
,
Halloween Fiction
,
Horror Fiction
,
Imagination Fiction
,
Jessica Moody
,
Joseph Fink
,
Moon Fiction
,
Mystery Fiction
,
Paranormal Fiction