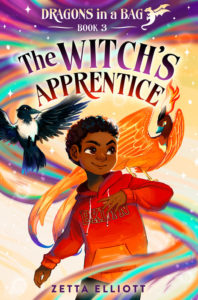 Dragons in a Bag, Book 3
Written by Zetta Elliot, Illustrated by Cherise Harris
This series is a lot of fun. The first book, Dragons in a Bag, was just the introduction to the magical world of dragons, witches, magicians, and other magical creatures. My favorite so far was the second book, The Dragon Thief. Kavita grew as a character in some fun and interesting ways. This latest book takes Jax deeper into the magical realm and into mysterious ways. There are quite a few new characters that I enjoyed getting to know. And if you started the series you will want to continue with this book. And possibly another one in the future. . .
I think kids who read and enjoyed the first book will enjoy this book as well. There are many references in this story to historical places in Chicago and ethnically diverse groups of people that changed Chicago throughout history. It's great to learn about real places while reading a fictional story. I'm looking forward to seeing how this story progresses in the next installment.
Reviewed by Merri Rygg, Media Clerk, Harry S Truman Elementary
Review shared in March 2022
Rating: ★★★½✩ (3.5 stars)
Interest Level: Grades 3-7
Dragons in Bag, Book 3
The Witch's Apprentice
Written by Zetta Elliot, Illustrated by Cherise Harris
Random House
265 pages
Release Date: January 18, 2022
ISBN: 9780593427705
A review copy was provided by the publisher.
Tags:
2022 Children's Fiction
,
African Americans Fiction
,
Apprentices Fiction
,
Brooklyn Fiction
,
Chicago Fiction
,
Dragons Fiction
,
Dragons in a Bag
,
Fantasy Fiction
,
Magic Fiction
,
Merri Rygg
,
Witches Fiction
,
Zetta Elliot