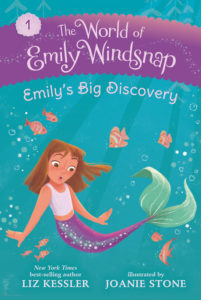 Written by Liz Kessler, Illustrated by Joanie Stone
The book is about a girl named Emily who really wants to swim in the ocean but her mom says it is too dangerous. Then a couple of weeks later her chance finally comes. When Emily went into the pool she felt calm and nice, but then Emily felt her feet stop kicking and she yelled for help! The man came and dove into the pool and the man said it was just cramps. At night Emily couldn't sleep. She was still thinking about what happened at school, but when she thought of the water, she wanted to go to the ocean and swim. When she got deeper, she felt it happen again. Then, she saw she had a tail. She swam and saw how beautiful the ocean was, but then she felt something. It might be a shark, she thought. When the shark touched her she screamed. Then she met another mermaid. The mermaid gave her pebbles for friendship.
I like this story because it is pretty good and has great pictures, but I don't really like how the mom doesn't let her swim, so it's sad.
Reviewed by Rubi, 3rd Grade Student, Jim Bridger Elementary
Review shared in May 2022
Rating: ★★★★½ (4.5 stars)
Interest Level: Grades 3-6
The World of Emily Windsnap: Emily's Big Discovery
Written by Liz Kessler, Illustrated by Joanie Stone
Candlewick Press
56 pages
Release Date: April 12, 2022
ISBN: 9781536215229 
A review copy was provided by the publisher.
Tags:
2022 Chapter Books
,
Fantasy Fiction
,
Friendship Fiction
,
Joanie Stone
,
Liz Kessler
,
Mermaids Fiction
,
Ocean Fiction
,
Rubi
,
Student Reviews
,
Swimming Fiction
,
The World of Emily Windsnap