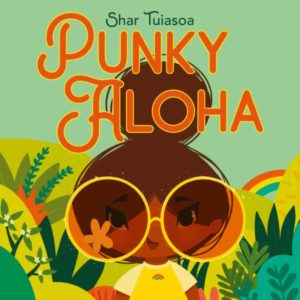 Written and Illustrated by Shar Tuiasoa
Punky is a little girl that loves her grandmother's banana bread. But on the day that her grandmother bakes banana bread, Punky has to go on a big adventure to get butter for the bread. Due to her shyness, Punky's grandmother gives her a pair of special sunglasses to help her on her adventure with the reminder to be helpful, be giving, and be brave. She finds out that she can be brave and make many new friends by following her grandmother's advise. This was a fun, feel good story about a little girl that represents some of the Polynesian students here. I think that they will be excited to read this story and will enjoy looking at the bright, colorful pictures that are reminiscent of the islands.
Reviewed by Heather B. Arauzo, Librarian, Granger Elementary
Review shared in August 2022
Rating: ★★★★½ (4.5 stars)
Interest Level: Grades K-3
Punky Aloha
Written and Illustrated by Shar Tuiasoa
Harper, an imprint of HarperCollinsPublishers
32 pages
Release Date: June 7, 2022
ISBN: 9780063079236
A review copy was provided by the publisher.
Tags:
2022 Picture Books
,
Fantasy Picture Books
,
Hawaii Picture Books
,
Heather B. Arauzo
,
Pacific Islanders Picture Books
,
Polynesian Picture Books
,
Self-Confidence Picture Books
,
Self-Esteem Picture Books
,
Shar Tuiasoa
,
Shyness Picture Books
,
Sunglasses Picture Books